ECHO's state-of-the art science and nature center welcomes school groups year round.
ECHO has three options for unforgettable field trips. Decide what best suits your group and then register for a guaranteed great time.
Download the 2017-18 Educator's Guide or read about our programs below.
Teacher's Choice Program: $75 fee per program plus group admission
45-minute, ECHO Educator-led programs built off the Vermont Common Core and the Next Generation Science Standards connecting students to the ecology, culture, history, and opportunities for stewardship in the Lake Champlain Basin and NEW this year hands-on Engineering Challenge programs. See descriptions below.
Includes everything in the Self-Guided Group Experience.
Cost: $75 for up to 25 students, in addition to group admission. For larger groups each additional program is $75/session.
Register Your Visit Here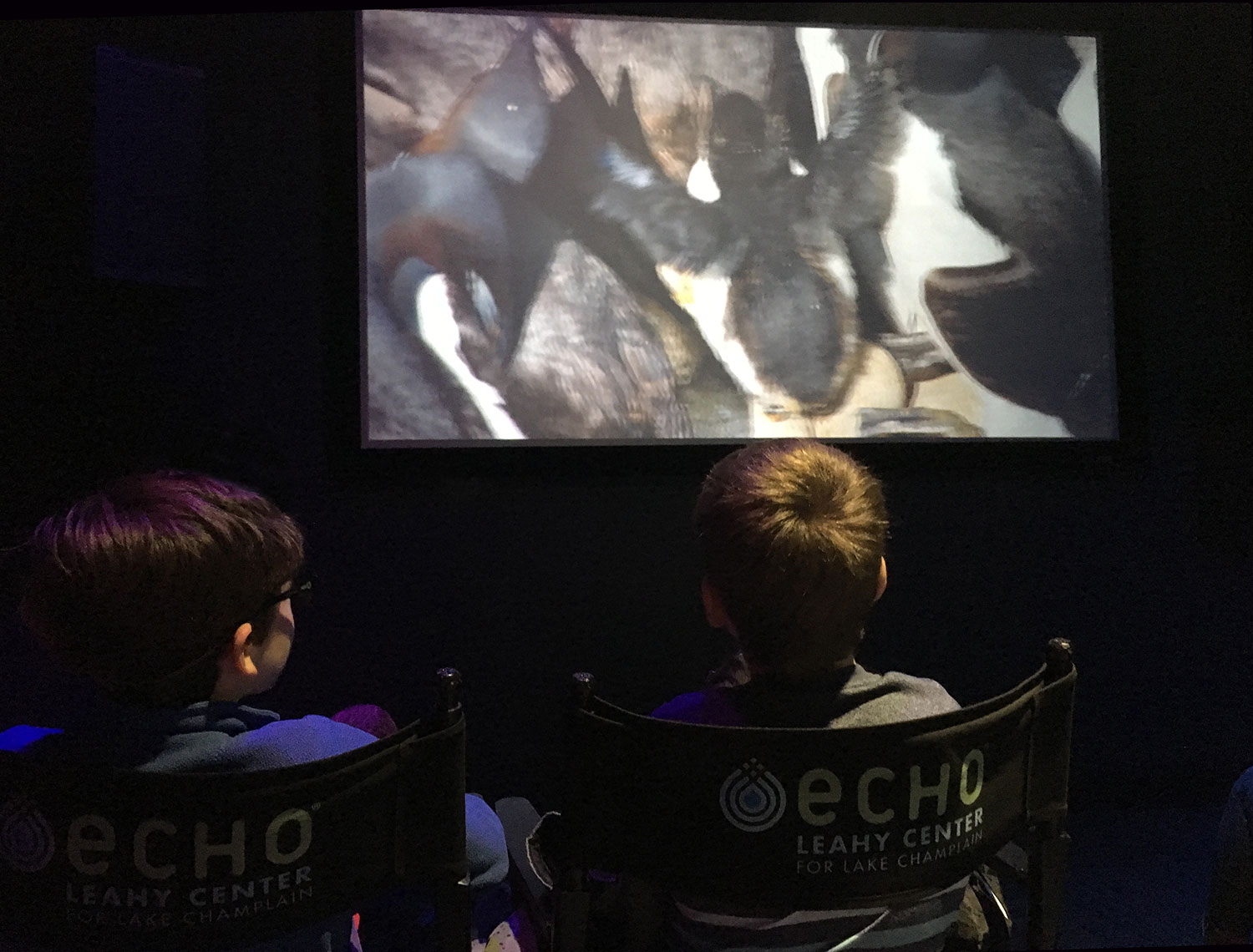 Northfield Savings Bank 3D Theater: $3/person plus group admission
ECHO's 3D theater brings beautiful, informative, and fun movies to you and your students! These award-winning, educational films explore topics from robots to pandas are sure to inspire.
Register Your Visit Here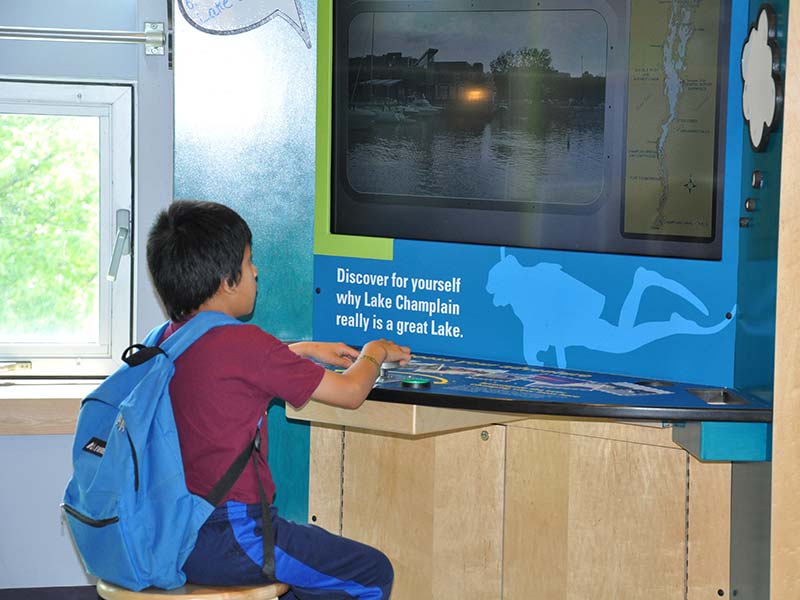 Special Program Offering May 12 – June 15, 2018
Engineering in Action: Make Like a Scientist (K-6)
Students will learn about Lake Champlain's elusive endangered lake sturgeon as they use the engineering design process to plan, build and test a solution to an engineering challenge. This program highlights how science, technology, engineering, and math are used by scientists as they work to protect one of Lake Champlain's rarest inhabitants.
Teacher's Choice Program Options through May 11, 2018
Engineering in Action: Zip Carts (K-5)
Lake Champlain's endangered spiny softshell turtles are in trouble and need your help! Students will use the engineering design process to transport turtles to safety as they plan, build, and evaluate solutions to ECHO's zipline challenge. This program incorporates science, technology, engineering and math concepts into one exciting rescue mission!
Engineering in Action Standard Teaching Requirements.
Engineering in Action: Launch, Fling, Fly (K-5)
Wetland Wonders (K-3)
It's a sponge, it's a filter, it's a nursery…it's a wetland! Explore the living and nonliving elements of this important habitat as we bring wetland to life by evoking its unique sights and sounds.
Wetland Wonders Standard Teaching Requirements.
Amphibians All Around Us (K-3)
Native American Games (K-3)
Rock and Roll Geology (3-6)
Native American Artifact Inquiry (3-6)
Fins, Form, and Function (3-6)
How does a fish's shape, color and structure reflect its way of life? Students will compare the anatomy of different fish and analyze how the animal's structure relates to its habitat and behavior, and then conduct their own investigation of live fish here at ECHO.
Basin Biodiversity (7+)
Students will learn how native biodiversity is being tracked in the Basin and how they can contribute to the work being done as a citizen scientist. Participants will watch an exclusive ECHO movie short and meet one of ECHO's live animal ambassadors.
Basin Biodiversity Standard Teaching Requirements
| | |
| --- | --- |
| Pre-K through 12th grade student admission to ECHO | $6.50 |
| One adult admission to ECHO for every five youths, teachers included | Free |
| Each additional adult admission to ECHO | $8.50 |
| College students admission to ECHO | $8.50 |
For questions about school groups and programs please call Claire Shapiro, Event Coordinator, at 1.802.864.1848 Ext. 124 or cshapiro@echovermont.org
Group Repeat Admission Policy
Visit ECHO with your group once and the initial group of students can return to ECHO and receive FREE unlimited admission up to 6 weeks after the group's initial visit. This new policy is ECHO's way of supporting student projects that deepen learning about Lake Champlain. Special projects, capstone work and more can be a part of this repeat visitation. Some restrictions and contingencies apply as stated below.
Students must be in grades K-12
All repeat group visits MUST BE PRE-BOOKED with ECHO's registrar (important!)
Return visits must take place within 6 weeks of the group's initial visit
Groups MUST RETURN AS A GROUP consisting of the same students and no more than the initial number of chaperones (not as individuals or with families)
Groups requesting special rooms, private meeting, or presentation space are subject to room rental fees (Note: Families/guests attending a student presentation at ECHO pay the posted admission rate.)
How long is a typical field trip?
Typically groups will stay for about 2 and 1/2 hours. During this time they can explore ECHO's exhibits and attend activities and demonstrations taking place throughout the day.
What is the recommended adult-to-child ratio?
We recommend one adult chaperone for every five children (not necessary for High School students).
Do students or teachers with an ECHO Membership get in free for a field trip?
No, groups are not part of general admission to ECHO and require more resources from our Staff. Memberships may not be combined with group admission and are not considered part of any group reservation.
How does the lunch break work?
Arrangements need to be made in advance if your students need to eat lunch inside of ECHO. We will do whatever we can to accommodate you but we do need this advanced notice. Space is subject to availability. Many groups choose to have a picnic in Waterfront Park weather permitting.
Where do buses and cars park? Is there a fee?
Free bus parking is located on South Champlain Street, Perkins Pier, and Leddy Park. A map of the available spaces will be sent with your reservations. Chaperones may park in ECHO's lot (behind the building) for $5 per car per day (Map).
What is the cancellation policy?
Groups must cancel at least 24 hours in advance of their scheduled arrival time. If you do not call us to cancel and receive confirmation of cancellation from ECHO we will charge a $100 no-show fee.
How long are the Teacher's Choice programs for a K- 8th grade field trip?
K-8th grade Teacher's Choice programs are led by ECHO's Education staff and run 45 minutes each.
What is the typical number of Teacher's Choice programs for a field trip?
Groups of up to 25 students select one 45 minute program. Larger groups choose one program and rotate groups of students using a "station rotation" format coupled with an ECHO Inquiry Trek and/or a self guided tour of ECHO exhibits.
Does ECHO have any scavenger hunts or other self-guided activities?
Yes. ECHO has several "Treks" or exhibit exploration experiences that you can choose from depending on the focus of your field trip. Visit the Teacher Resources page to learn more and print out worksheets.
Can we go to a live animal program?
Yes. They are offered at 10 a.m. and 3 p.m. daily unless otherwise noted.
What is the maximum number of K-8th grade students per program.
The maximum is 25 students per program.
My students are doing research. Does ECHO have a library or resource room?
Yes. ECHO is part of the Leahy Center Campus that includes our top floor partner, the Lake Champlain Basin Science Center Resource Room — a staffed library, computer research lab, video archive, and artifact exploration space with maps, charts, photographs and posters. The Resource Room also boasts a unique library of children's fiction and non-fiction books related to the Lake's ecology, culture, history, and "stewardship action" partners in the region.