ECHO offers one-day and week-long science, stewardship, and design themed day camps during summer break and school vacation
Set against the backdrop of the bustling Burlington Waterfront, a day at ECHO camp can move from an impromptu, behind-the-scenes observation of ECHO's animal care activities to a lakeside game of Turtle Tag to an underwater robot-enabled search for Champ.
Camp Staff
Our stellar camp team is composed of year-round ECHO educators, seasonal staff with backgrounds in science and education, and members of ECHO's environmental teen leadership program. We believe the intimate, responsive atmosphere of our camps is what makes ECHO Camps a truly engaging experience. Therefore, we ensure a low instructor-to-child ratio of approximately 1:6. Past guest instructors have included scientists from UVM's Rubenstein Ecosystem Science Lab, members of ECHO's animal care team, and robotic engineers from Greensea Systems Inc.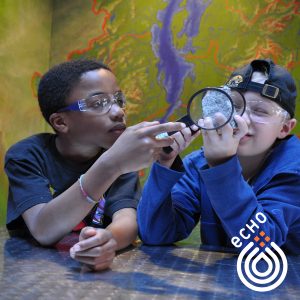 REGISTER NOW!
Please note: Internet Explorer is not supported by our registration system. Our system supports Chrome, Safari, Firefox.

Celebrate the end of Earth Science Week by exploring the surprising stories that rocks can reveal. The earth under our feet can tell us what was happening here millions of years ago, and what's happened since then – we just need to learn how to look for the clues! 
Member: $60/day
Non-Member: $65/day
Aftercare available until 5 pm for $12/day. 

Summer Camps
ECHO offers a selection of exciting week-long science, stewardship, and design themed day camps for children entering 1st-6th grade from late-June through late-August. Summer 2020 listings will be posted in early Spring 2020. 
Summer Camp Deposit
A deposit is due upon registration. The remaining balance will be due two weeks prior to the start of your camp. Your full fee is due upon registration if you are registering for the 2 or 3-day camps.
Summer Camp Refund Policy
Families who cancel four weeks prior to the start of their camp(s) will receive a refund less a $25 check processing fee. No refunds will be issued within four weeks of a camp's start date. However, fees may be transferred in full to a future camp. Should ECHO need to cancel a camp for any reason, you will be notified and given a full refund. We are unable to prorate week-long camps due to planned or unexpected absences.