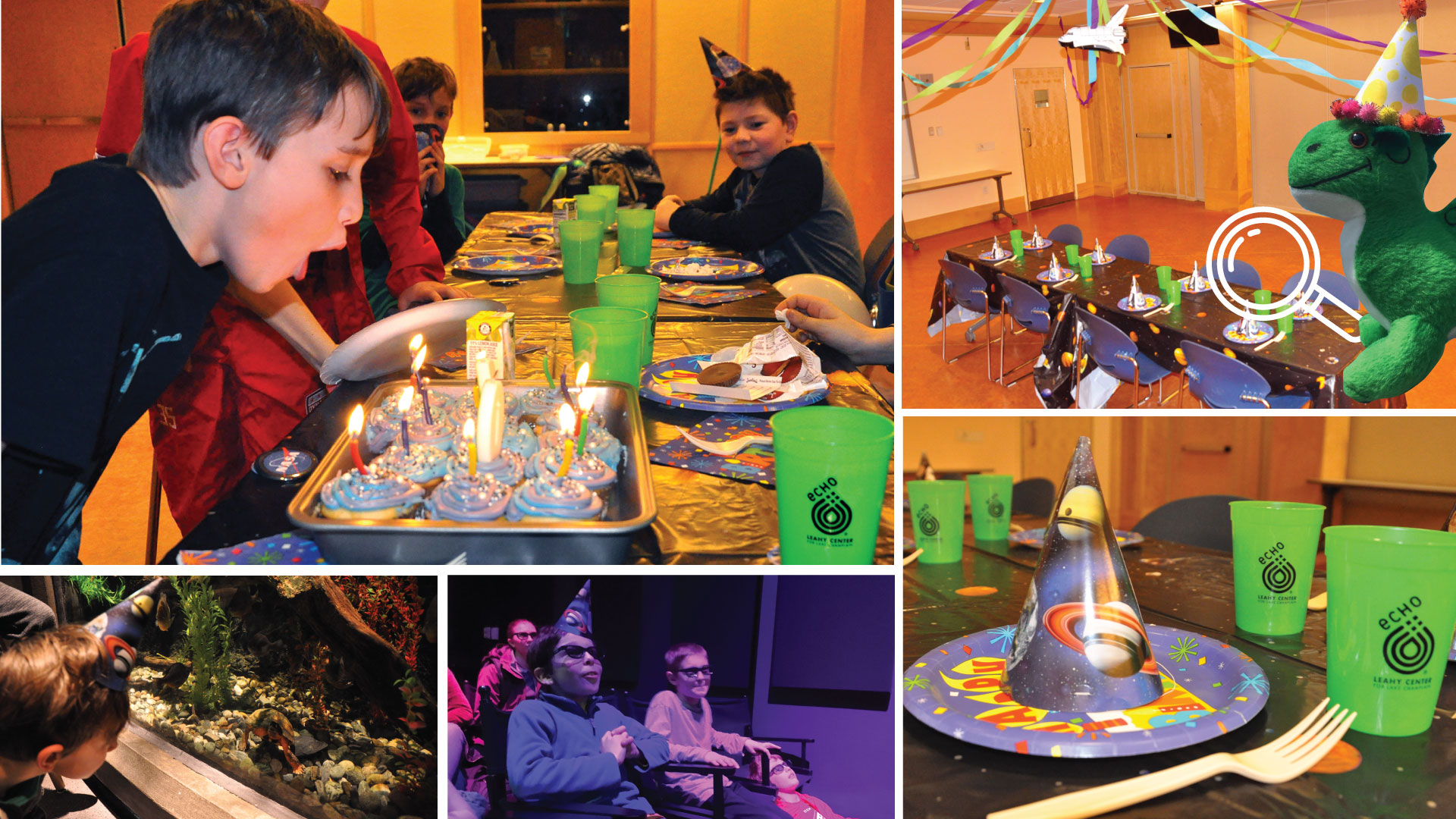 Discover, Explore, and Celebrate at ECHO!
Celebrate in eco-friendly style while supporting ECHO's mission to inspire families in the joy of scientific discovery and wonder of nature. Your guests will enjoy an unforgettable party and have 100% access to ECHO's many exhibits including 70 species of animals and more than 100 interactive, hands-on exhibits. For more information, or to book a party, please contact Keely O'Brien, Event Coordinator, at birthdays@echovermont.org or 802.864.1848 Ext. 124.
Basic Party Package
$175 for members | $225 for non-members
Admission for up to 14 people
A private room to host your event
Plates, cups and utensils
Complete access to ECHO's exhibits
Additional guests: $9 per adult and $7 per youth
Ultimate Party Package
$275 for members | $335 for non-members
Everything in the Basic Party Package
Color changing cup, Frisbee (plate), and a color changing pencil for 14 settings
Additional settings: $7.99 each
Additional guests: $9 per adult and $7 per youth
Food and drink must be consumed in the party room provided. Please note that due to our building's fire-safety detectors, helium balloons are allowed but must be weighted down. Or feel free to include regular balloons in your celebration. We recommend non-latex, eco-friendly designs.
"I just wanted to let you know that Noah's birthday party at ECHO was the BEST BIRTHDAY EVER! I couldn't believe the beautiful view from the room and how nicely everything was set up. The story time at 10:30 was perfect timing for the kids to group and get together. The staff at the front desk were very courteous and handled everything perfectly. Thanks again!"