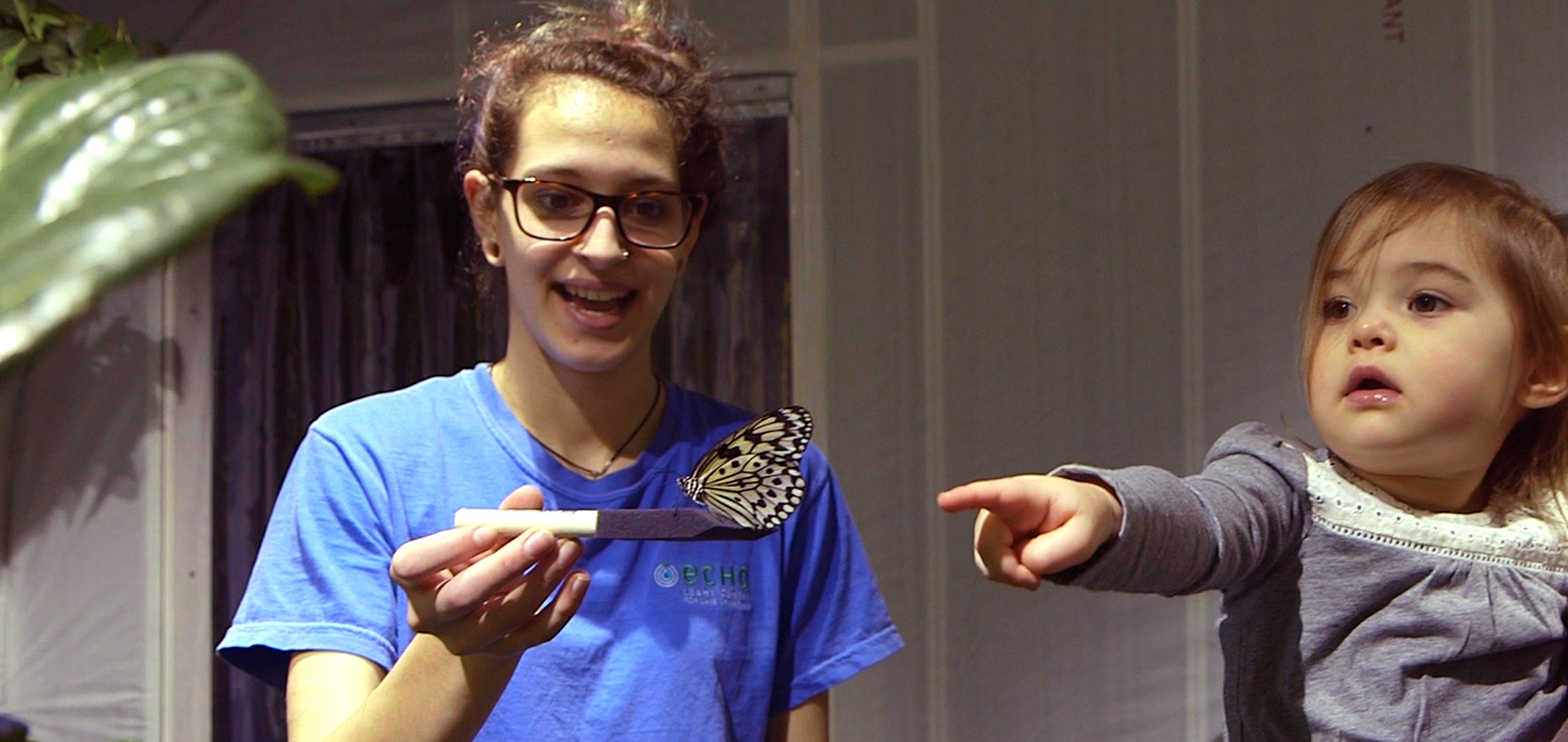 Become a part of ECHO's volunteer family!
Whether you're looking to learn more about the care of Lake Champlain, connect with your community, pursue your interests in STEM education, teach kids about bear and moose, or build your resume, ECHO has something for everyone!
ECHO is a nonprofit, and we depend on our amazing volunteers to engage with our visitors, assist in caring for animals, support our staff in their important work, and help us communicate our mission to engage families in the wonder of nature, the joy of scientific discovery and the care of Lake Champlain.

What do volunteers do at ECHO?
Support animal care staff in the care of our many species of turtles, including neonates (baby turtles)
Guide kids in exploring the wonders of moose and bears
Connect with the public about important water quality issues in the Lake Champlain Basin
Teach kids to program miniature robots in our Maker Space
Participate in delivering seasonal activities designed to enrich science learning in our community (past activities have included a solar eclipse viewing party, snowball fling, and more!)
Special Volunteer opportunity! Volunteers needed at ECHO for live butterfly exhibit—coming February 2020! Return of the Butterflies is a special, limited time live animal exhibit and volunteers are needed to help engage the public on all things butterfly! Spend this winter with butterflies in a tropical atmosphere! If interested, see full description below.
Butterfly Volunteer
Live Butterfly Exhibit Volunteers Needed at ECHO!
 Return of the Butterflies is a special, limited time live animal exhibit at ECHO opening February 8, 2020, featuring more than 50 species of live butterflies and moths. ECHO seeks volunteer "flight attendants"  to help engage our guests in learning about these wonderful creatures!
Inspire others as you learn about butterflies and work on your species identification in a tropical environment. Flight attendants will educate guests and ensure a safe environment for visitors and our butterfly residents, from the foot-long Atlas Moth to the elusive Glasswing butterfly.
During your volunteer shift, you might find yourself explaining the difference between a moth and a butterfly, talking about butterfly life cycles, and gently coaxing butterfly "hitchhikers" back into the air after landing on a guest. 
Volunteer commitment:
One, two-hour shift per week for at least three months

2.5 hours of training

Volunteer orientation
Qualifications:
No experience needed

Training provided

Interest in butterflies a plus!

Support ECHO's Mission

Work with visitors of all ages

Share your love of nature

Tropical environment (80 degrees with 80% humidity)
Education Volunteer
For ages 16 years and older
Responsible to: Public Programs Manager
Description: Help the public learn about over 70 species of animals, the fascinating culture and history of the Lake Champlain Basin, and pursue your passion for science learning in all forms in the only aquarium in Vermont! Work with people of all ages as you help interpret our exhibit galleries, discovery spaces, and live animals. Volunteers help bring the exhibits alive for the visitors, engage the public in STEM learning activities, interpret our marine invertebrates in our Champlain Sea Tide Pool, and share our important mission with guests.
Length of Commitment: Three months; 1 four hour shift/week
Qualifications: Volunteers must enjoy working with visitors of all ages, be excited about learning, and have an interest in sharing their enthusiasm for scientific discovery, the wonder of nature, and care of Lake Champlain and beyond. They must also enjoy working with a close team of Volunteers, youth, and Staff, and have an outgoing and cheerful demeanor. Experience in working with children and families a plus.
Resource Room Volunteer
For ages 18 years and older
Responsible to: Lake Champlain Basin Program Resource Room Staff
Description: The Lake Champlain Resource Room is an important link between the activities and exhibits within ECHO and opportunities throughout the Basin. Operated by the Lake Champlain Basin Program (LCBP) in coordination with ECHO, the Resource Room provides a Lake library, childrens' books and activities, exhibits, and two computer kiosks. Helping the public access stewardship opportunities on the Lake is also an important focus of the room.
Length of Commitment: Three months; at least two shifts/month
Qualifications: Volunteers must enjoy working with visitors of all ages, be excited about learning and have an interest in sharing their enthusiasm with others. An interest in Lake Champlain issues and stewardship is important as well. Opportunities within the Resource Room include helping the public access Lake information, helping children with hands-on activities, filing and cataloging information, and helping the public with basic computer use, such as the using the internet. They must also enjoy working with a close team of Volunteers, youth, and Staff.
Animal Care Volunteer
For ages 16 years and older
Responsible to: Environmental Exhibit Coordinator/Director of Animal Care & Facilities
Description: Animal care volunteers support our talented staff in caring for the 70+ animal species at ECHO.Learn and assist in a professional animal care institution that implements fish, reptile and amphibian care protocols utilized in institutions accredited by the Association of Zoos and Aquariums. Care for native fish and reptiles as well as native and exotic amphibians. After initial hands-on training, volunteers will be expected to accomplish daily husbandry tasks independently and support the ongoing well being of our animal ambassadors.
Length of Commitment: A full semester or summer commitment. Minimum of one four-hour shift per week.
Qualifications: Applicants should be able to work independently, be active, enthusiastic, detail-oriented, reliable, and willing to get wet and/or dirty! Occasional heavy lifting (up to 60 pounds) may be required.
Steps to Volunteer at ECHO:
Volunteer Opportunities: Read volunteer descriptions below and choose one that interests you.
Fill out our online application: Applications are accepted year-round.
Interview: If you are a good match for our volunteer program, you will be contacted for an interview to discuss your volunteer role, background and availability.
Volunteer Orientation: Volunteer orientations are held winter, summer and fall. When you have been selected as a volunteer, the Volunteer Coordinator will connect about your training and orientation times.
Department Training: In addition to the Volunteer Orientation, you will train within the department for your specific role.
Questions?
Contact Billy Ernest, Education & Volunteer Specialist at (802) 864-1848 x149 or bernest@echovermont.org
ECHO is proud to be an equal opportunity organization. All qualified applicants to volunteer and intern positions will receive consideration without regard to race, color, religion, gender, gender identity or expression, sexual orientation, national origin, genetics, disability, age, or veteran status. ECHO will provide reasonable accommodation to individuals with disabilities who need an accommodation to fully participate in the application process.
If you would like to request an accommodation, please contact David Bardaglio, Director of Finanace & Adminstration, 802-864-1848 x103 or dbardaglio@echovermont.org