MARTIN LUTHER KING JR. DAY 2021 CELEBRATION AT ECHO
Monday, January 18, 2021
Free Admission
Online tickets are required and limited for: 10-11:30 am, 12:30-2 pm, 2:30-4 pm
Closed for cleaning 11:30-12:30 pm and 2-2:30 pm

Every year ECHO celebrates MLK Jr. Day with free admission and family-friendly scheduled activities throughout the day in partnership with the City of Burlington's Community Economic Development Office. Due to COVID, this year looks a little different. We will still offer free admission throughout the day but in-person events and ticketing capacity is limited. Online tickets are required. We will have a MLK-themed art project in Lakeside Hall for families that day. Also see below for more information about local virtual events and free MLK-themed art activity packets available to be picked up at ECHO and other locations.
MARTIN LUTHER KING JR. DAY 2021 VIRTUAL ACTIVITIES & EVENTS

"Injustice anywhere is a threat to justice everywhere."
—Dr. Martin Luther King Jr.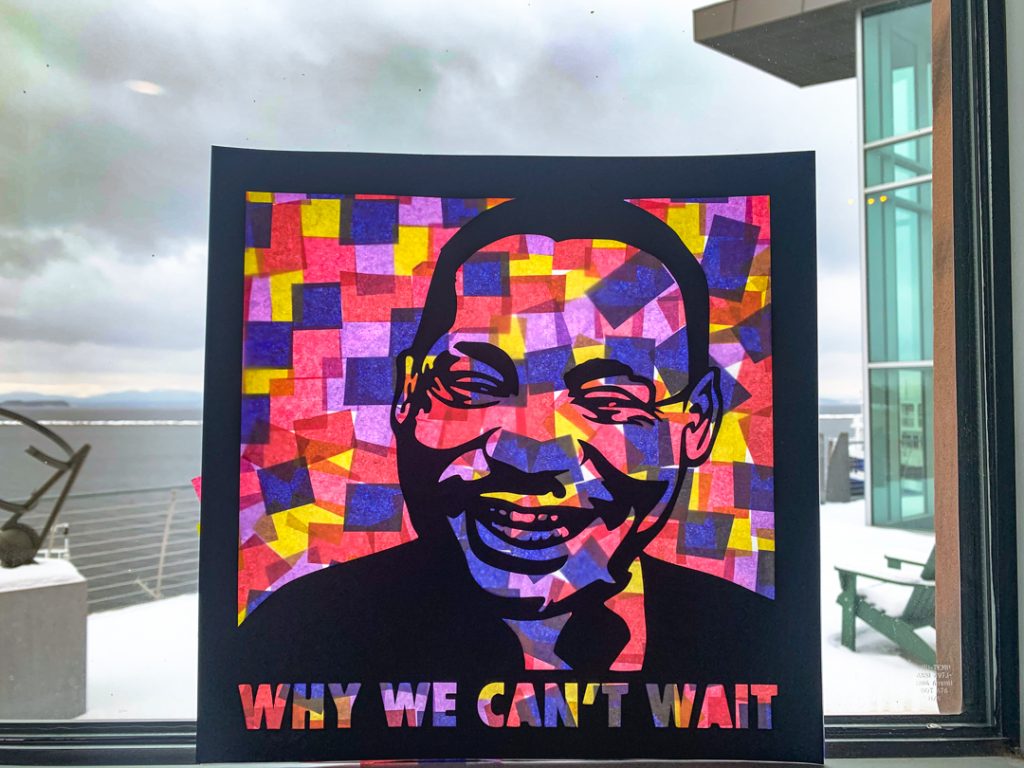 Free Art Activity Packets
By ECHO, Leahy Center for Lake Champlain & The City of Burlington
Available Beginning Monday, January 11
ECHO and other community distribution sites will be giving out free, family-friendly MLK-themed art activity packets. Packets will include supplies to make your own MLK wax paper mosaics, multicultural crayons & coloring sheets, a related family-friendly discussion guide on multiculturalism, and links to other suggested activities celebrating MLK's legacy and life. Once you are done, share your creation with your local and national community by using these tags:
#1000MLKProject, #ECHOvt, #MartinLutherKing, #MLKDay
Check out the MLK Day Activity & Discussion Guide here.
Pick-up Sites
ECHO, Leahy Center for Lake Champlain, 1 College Street, Burlington, VT
Sun, Mon, Weds, Fri, Sat, 10 am – 4 pm. Closed for cleaning 12:30-1:30 pm.

Fletcher Free Library, 235 College Street, Burlington, VT

Burlington Public Works, 645 Pine Street, Burlington, VT

Mon-Fri, 7 am – 4:30 pm
Dr. Rev. Martin Luther King Day Panel and Community Discussion on Reparations
By The City of Burlington
Monday, January 18, 2021, 11:00 am
Livestream: https://us02web.zoom.us/j/82578850083 or Telephone: 1(301)715-8592  
Engage with a panel of Burlington Staff, representatives from other Cities experiencing their own Reparation and Reconciliation discussions and legislative actions, and academics active in this evolving field in a conversation about Reparations on Dr. Martin Luther King, Jr Day. There will be time for questions.
Storywalk at Leddy Park: All Because You Matter
By Tami Charles, Illustrated by Bryan Collier
By Fletcher Free Library, Burlington City Arts, and Burlington Parks, Recreation, and Waterfront
Leddy Park Road, Burlington, VT 05408
All Because You Matter is not just a parent's love letter to her Black son; it is also an empowering story of heritage and hope. In her author's note, Tami Charles shares she wrote All Because You Matter "to provide parents with a starting point for conversations about the racial climate in our country today.
A Tale of Two Americas: HIV, COVID-19 & the "Pandemic" of Healthcare Disparities
Through Dartmouth College
Saturday, January 16, 2021, 1:00 pm
Livestream: https://dartmouth.zoom.us/j/6033392686
Presenter: Daniel Baxter, MD, Internal Medicine Specialist, Mount Sinai Morningside
As the HIV pandemic has shown, chronic healthcare disparities have inflicted immense suffering in marginalized communities of color, and the current COVID-19 crisis has further compounded these inequities, which challenge us in our everyday clinical interactions with our patients. Daniel Baxter MD:  Dr. Baxter is an Internal Medicine Specialist in New York, NY and has over 45 years of experience in the medical field. He graduated from University of Pennsylvania School of Medicine in 1975. He is affiliated with Mount Sinai Morningside.
Dr. Martin Luther King Jr. Remembrance
Through The Greater Burlington Multicultural Resource Center
Sunday, January 17th, 2021, 3:00 pm
Livestream: https://c.themediacdn.com/embed/media/WvsdyS/EfXerlXsmIx/dE9wZgs2P2l_5?preview=1
Keynote Speaker: Tim Wise
Tim Wise is among the most prominent anti-racist writers and educators in the United States. He has spent the past 25 years speaking to audiences in all 50 states, on over 1,500 college and high school campuses, at hundreds of professional and academic conferences, and to community groups across the country.
Slave Health Deficit: The Journey to Health Parity
Through The University of Vermont
Wednesday, January 20, 2021, 5:30 pm
e-Tickets required; available at go.uvm.edu/mlk2021
Keynote Speaker: Leon McDougle, MD, MPH
Leon McDougle, M.D., M.P.H., is the 1st African American Professor with tenure in The Ohio State University Department of Family Medicine and the 1st Chief Diversity Officer for the OSU Wexner Medical Center. Dr. McDougle was installed on August 3, 2020 as the 121st President of the National Medical Association (NMA), , which serves as the oldest and largest collective voice for African American physicians in their effort to eliminate health inequalities.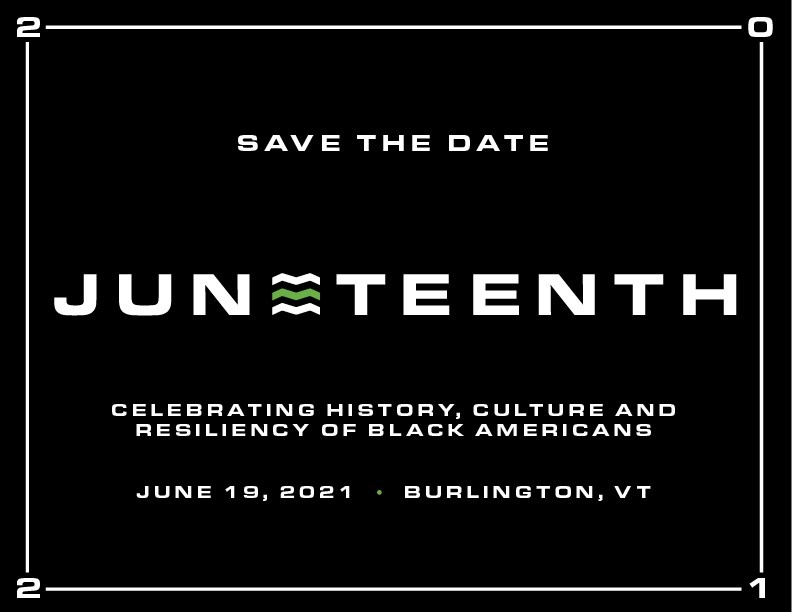 Juneteenth: Celebrating History, Culture, Resiliency of Black Americans
June 19, 2021
Burlington, VT

Save the Date! More information to come on this important event.