Martin Luther King Jr. Community Celebration
January 20, 2020 @ 10:00 am

-

5:00 pm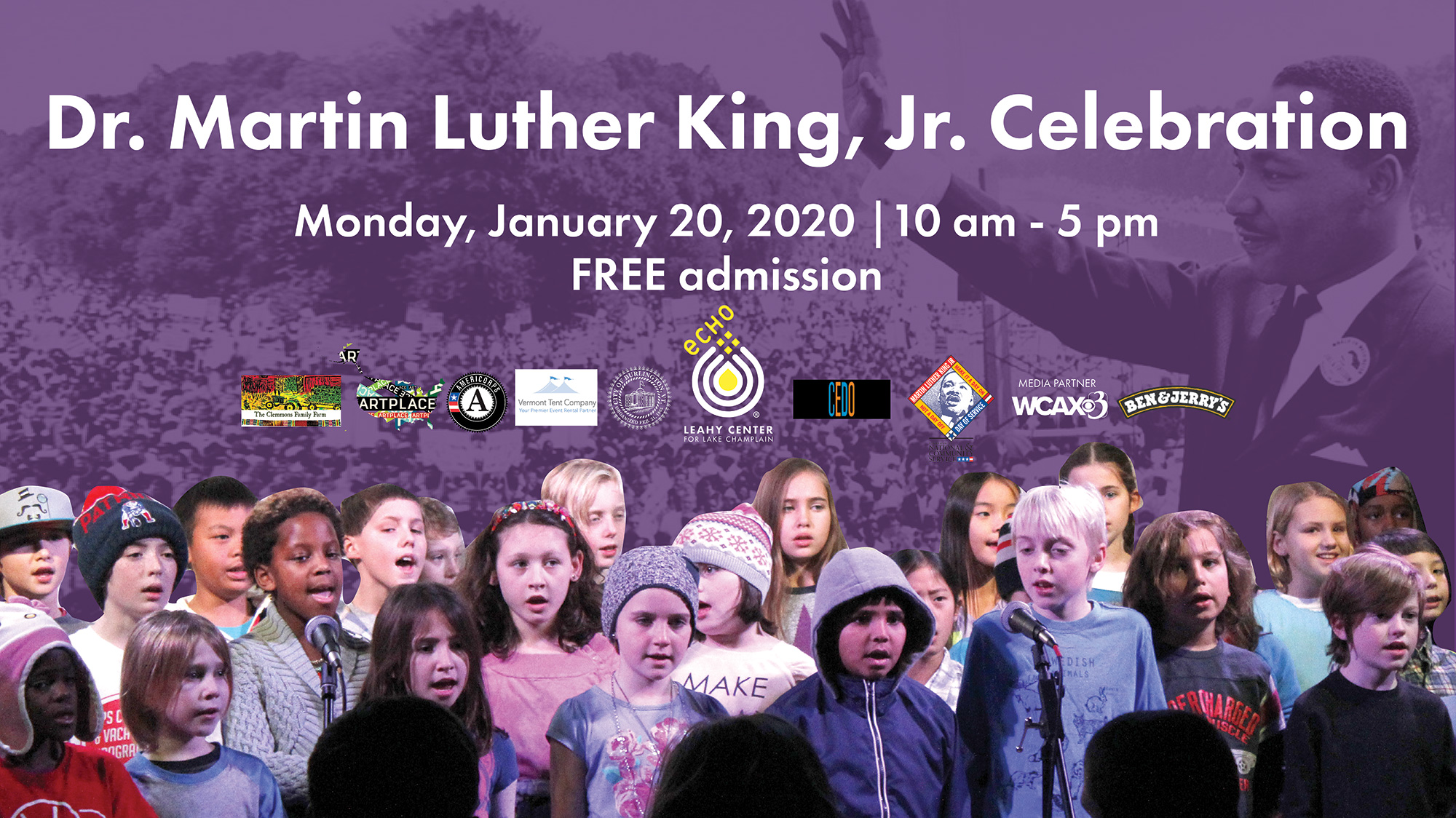 EVENT OVERVIEW
"Injustice anywhere is a threat to justice everywhere." —Dr. Martin Luther King Jr.
Join us as we celebrate MLK's life and legacy. This family-friendly event includes walk-up and scheduled activities throughout the day. This free admission event is a partnership with the City of Burlington's Community Economic Development Office and the Connect AmeriCorps State Program.
SHUTTLE INFORMATION
There will be a free shuttle bus running between the Integrated Arts Academy, Sustainability Academy, and ECHO on a 15 min loop from 10 am – 4 pm.  All child riders must be accompanied by an adult chaperone.
SCHEDULED EVENTS
10:45 am
Social Justice Story Time and Craft
Join the CEDO Connect AmeriCorps State Team for a family-friendly social justice themed story time. Make your own storybook too!
12:30 pm
Musical & Spoken Word Celebration
Music and spoken word served as a call to action, an inspiration for Dr King's civil rights movement. Join us for stirring performances honoring Dr. King's legacy. 
Welcome by Mayor Miro Weinberger
Choir Performance by the Integrated Arts Academy & Sustainability Academy
Spoken Word by Harmony Edosomwan
Musical Performance by Noel Mukiza 
2:00 pm
Panel Discussion: Career Navigation and Higher Education Attainment for Young Professionals of Color
Young professionals will share their experiences, challenges, and opinions of best practices for education and career success for their age group. Panelists will present ways to improve pathways for youth and young professionals of color and the challenges different industries face in recruitment, support, and retention.
Panelists:
Crystol Dejohnette, Masters of Social Work at University of Vermont and Spectrum Multicultural Youth Program Intern
Yusuf Abdi, University of Vermont Undergraduate Student
Mohamed Jafar, Community Justice Center
Sarah Childs, Assistant Director of University of Vermont Mosaic Center
Tino Rutanhira, Product Manager at Dealer
Dorcas Loheese, University of Vermont Undergraduate Student
Marylyn Segura, Spectrum Multicultural Youth Program AmeriCorps 
3:30 pm
Panel Discussion: What Will the Fight for Civil Rights Look Like in the 2020s?
National attention on civil rights peaked in the 1950s and 1960s. But the fight for equal protection and opportunity continues. Join a group of expert panelists as they weigh in on the future of civil rights in our community and nation.
Facilitator: Patrick Brown
Panelists:
Kerin Stackpole, Employment and Labor Law Attorney at Paul Frank & Collins
Stephanie Seguino, University of Vermont Professor of Economics
Reverend Arnold Thomas, Good Shepherd Lutheran Church
Daimeyon Williams, Spectrum Youth and Family Services
Ryan Hargraves, University of Vermont Executive Director of Undergraduate Admissions
SPECIAL ACTIVITIES BY CLEMMONS FAMILY FARM
10:30 am – 2:00 pm
Travels of the Intrepid Exhibit
Learn how the joys and dangers of traveling while Black in the US connect the past to the present. Discover the adventures of the intrepid Jackson and Lydia Clemmons, who travelled across the United States in the 1950s when racial segregation was in full force and when many African-American travelers relied on the Green Book to locate places that would welcome them. Look at recent data from Vermont that reveals some of the risks of "driving while Black."  Learn about contemporary groups like the Black Travel Movement and Outdoor Afro who build exciting new friendships while exploring the United States and the great outdoors.
10:30 am – 12:00 pm
Community Mural Mixed-Media Co-Creation
Explore social justice by using visual art to share your experiences and express your feelings. With chalk, charcoal and markers you'll help co-create a community mural with visual artist Julio Desmont.
Brown n' Out Podcast Special Episode
Be part of the audience and listen to a live recording of a special family-friendly episode of Brown n' Out, a podcast that highlights the voices of LGBQT people of color in Vermont, with host Reggie Condra. 
12:30 pm – 2:00 pm
Community Mural Mixed-Media Co-Creation
Explore social justice by using visual art to share your experiences and express your feelings. With markers, fabric, and other cool things, you'll help co-create a community mixed-media mural with visual artist Kia'Rae Hanron.
Community Song and Dance Co-Creation 
Explore social justice through song and dance to share your experiences and express your feelings. Come co-create during a musical "funshop" with five young up-and-coming music and dance popstars from Winooski and performing artist KeruBo.
2:30 pm – 4:00 pm
Echoes of A Dream: Visitor Storysharing Sessions
Record and share a true story of your own helpful, hurtful or hopeful social justice experiences in Vermont with Reggie Condra and multidisciplinary artist Kenroy Walker. 
ADDITIONAL WALK-UP ACTIVITIES THROUGHOUT THE DAY BY:
The CEDO AmeriCorps Connect Team
Everybody Works
The US Census
Ben & Jerry's